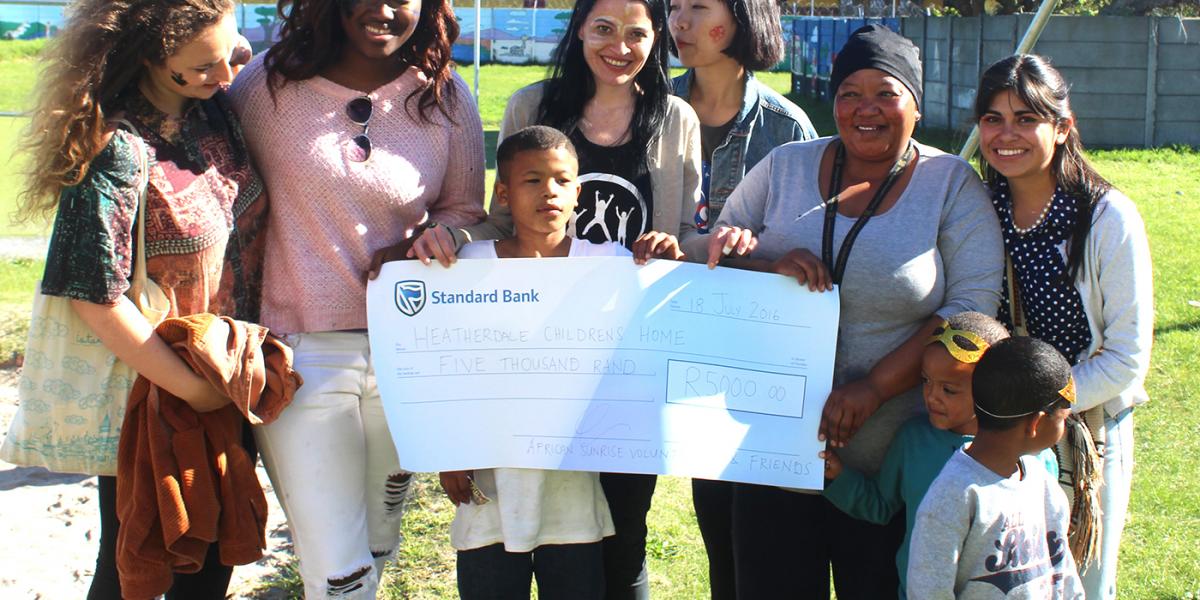 It began with just a dream, a dream to make a difference!
by SIBA QUMA, PROJECT LIASON, AFRICAN SUNRISE VOLUNTEERING
This year began with just a dream, a dream to make a difference. The dream had practical plans and the dream is now the reality of African Sunrise. The dream was not to be a difference by sending volunteers and interns only but having the staff be life time volunteers as well. This year has been quite eventful for African Sunrise, we have worked with so many amazing projects and fostered new relationships.
Our interns have gotten so involved in the projects they went far and beyond their call of duty. We had three of our students at a home of safety who were determined to make a difference they went from buying a fridge, 3 stoves and an urn to getting someone to clear birds in the roof to painting walls to hosting a prom night for the kids where they made girls feel like princesses and he boys like princes. This was all done from their own fundraising initiatives. We are so proud of the girls for doing all this in their three months at the home.
Just down the road we had other students at another home of safety who were active in organising a soccer day for all the homes of safety's this went really well.
Last week at the home of safety for boys our interns and volunteers just completed a painting project, the interns there have done such amazing things for the kids; they hosted a beach day for the boys, a Christmas party and are looking forward to do more!
We had three social work male students at a shelter for young men who did a fantasic job in connecting with them and doing a lot of activities man to man. The guys raised funds to do fun activities; they went swimming, ice skating and just forming brotherhood.
Apart from our interns doing great things for children we have an intern who has devoted her internship and time to helping old people. This has been so remarkable to watch! She took them on occasional coffee dates, outings where they can just relax, talk and enjoy life.
I can't begin to stress how proud we are to have such amazing interns, not just interns who have been running fun fundraisers but also giving their time not only to their projects but supporting each others projects and events.
At African Sunrise our company aims not to just place volunteers and interns but get involved! We ran a few fundraisers this year. For Mandela Day we did a fundraiser for jerseys for one of our home of safetys and brought a party to them where there was karaoke and fun ! The winter season is very cold in Cape Town and this made us think of the Homeless people we serve Fridays with Soup kitchen observatory, so we ran a fundraiser for waterproof sleeping bags. We had an Intern from France Elena Gary who worked with us, she ran a photography project where she gave the boys cameras and they took pictures and exhibited them, all the proceedings went to the home.
In August we ran a women's month sanitary pad driver where we collected over 700 pads and delivered them to girls at Uitsig High School and Gugulethu High School. This initiative was to help keep the girl child in school as many girls skip school when they are on their periods because of no sanitary pads. We had some of our volunteers and interns helping us with the drive and delivery. Our current project is raising money for our home of safety for boys; our director CJ roper found an innovative way of raising money, she raised R10 000 just by putting her fiancé's beard on the line! So amazing.
We are also quite open to different views and ideas you might have in terms of volunteering! Don't limit the thought, volunteering is not just limited to playing with kids, you can volunteer as a handy man, a music teacher, a dancer, artist, a designer, social worker, a doctor, a legal adviser anything you can think of just drop us an email and we can talk about it! (
siba@africansunrise.co.za
). If you looking to make a difference in life why not come and do an internship or volunteer in Cape Town with people who also live a life of making a difference!