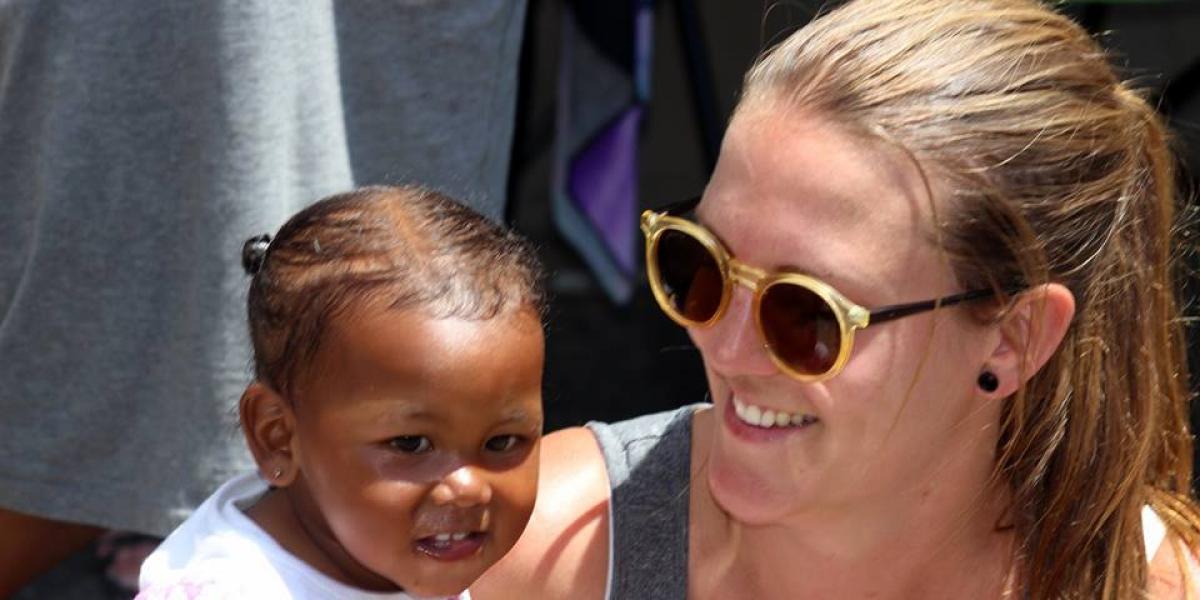 Volunteering Liaison & Working with Refugees – an Interview with Tania Sincic
African Sunrise is an all-female company based in Cape Town South Africa. They facilitate volunteers and interns and place them with a suitable non-profit organisation. Most of their volunteers and interns are from Sweden, and some of the most popular fields of study or interest are social work and community development.
This week, Outline Business catching up with African Sunrise's volunteering liaison and co-director Tania Sincic.  We will discuss her role at African Sunrise, her reasons for founding the company with their director CJ Armstrong, her ongoing work with refugees in Sweden and what makes African Sunrise stand out from the rest of the volunteering companies in Cape Town.
Outline: What is your role at African Sunrise and can you go through some of your typical tasks you do?
Tania: I am the co-director with CJ, and my main role is to handle the interns and volunteers before they come here. I am in contact with universities and schools, mostly in Sweden, and also individuals that would like to come as volunteers or interns.
A lot of my work involves logistics; matching the interns and volunteers to an organisation that suits them, accommodation, arrival dates, introduction days etc. I am also their contact person before during and after their stay here, to answer all the possible questions they might have and simply be here for them when they need to talk.
A lot of my time I do spend on my email or messenger to talk to the students and volunteers, to make them feel safe and excited to come here. I also provide the students/volunteers with smaller trips like Garden Route, Cape Point, wine tours etc. that I go on together with them, to create the whole "we are a family feeling", as they are all far away from their families when they are here.
Outline: What made you decide to co-found African Sunrise and how does it differ from any previous companies you've worked for? 
Tania: CJ and I had the idea that – "We should do this on our own, better, nicer and for a price that makes more people able to come here".
When CJ presented her idea about African Sunrise, it was not a hard decision to make, even if it was scary, of course, we had no idea what we had in front of us! The main difference is that we are now our own bosses and we can do this the way we really want to.
For me, it is very important that the people coming know what they are paying for and that their money is spent reasonably. Volunteering should not be expensive; you should only pay for the basics of safety and knowing you get a great organisation to join. A good place to work at. I don't believe in charging students too much for the opportunity to help.
Now we can spend our work days doing those things, getting involved in different organisations and even starting an NPO (Breaking Bread Community Development that CJ and her husband started together with Sheradia Brown and that I am involved in as much as I can).
Outline: You spend a few months every year back home in your native Sweden, where you work with refugees. Can you tell us more about your role there and any other information about the organisation you work with there?
Tania: Since 2008 I work in a governmental facility that works with underaged refugees coming alone to Sweden. I am there as a social worker/care worker and help them in their everyday life, to create a new life in Sweden.
On my free time, I am also involved as a volunteer with "asylstafetten". This is a walk we do every summer in Sweden through the country together with illegal immigrants and refugees, that have been waiting for their asylum for years and those who have got it approved to make people more aware of refugees' situation in Sweden. We walk about 350 kilometres every year, and it's the most amazing thing, you really get close to people, and you meet so many nice human beings on the way.
Outline: How does working with refugees influence the way you approach the work you do with NPOs in Cape Town?
Tania: It is very similar. Why? It's always about people in need. People that have nothing. Many are coming from a "normal life" but something happened in their life, and they lost everything. It's global, and I try always to remember that. People are people, and it really doesn't matter where you are from. We all need help sometimes, and I just think its common sense to help others, the way you will need help one day.
I think it's more the work in South Africa that has made me stronger in my work in Sweden though. The resources are so much less here than in Sweden, and it makes you humble with what you have and how much you can do with so little.
Outline: You work closely with all the volunteers and interns as part of your role. Do you have any advice for people who are considering volunteering or doing their internship in South Africa?
Tania: Do not have too many expectations on how you want it to be.
Try come with a very open mind. Things will not be as they are you are from, many things will be harder, some will be easier, some will be worse, and some will be better.
Try to take it for what it is and listen to the advice you get from the locals.
Do not be afraid to ask questions; it is ok to now know or understand everything.
Share your experiences with the people you work with and live with, we all have things to learn from each other, but remember that your way is not the only way and the way it works at home might be right there but might not fit in here. There are cultural differences that you will have to face!
Outline: What makes African Sunrise different from other volunteering companies in Cape Town?
Tania: We are a small company that focuses on an ethical way of volunteering. You will know us, be friends with us and work side by side with us many times. We don't charge as much as bigger companies, but you will still get great service and safety.
We spend time and money to create fundraisers for different organisations that our volunteers and interns are placed at, and we do spend a lot of energy on helping Breaking Bread Community Development. Simply said; We are your family when you come here, and all we want is to create more opportunities for the organisations to get more help and for students and volunteers to come and join, help and learn.
Outline: Why do you think it's important that African Sunrise works closely with each organisation you place volunteers and interns with?
Tania: We want to know where we place our students and volunteers. That they will be of help there, that their supervisor is good, that it is a safe place and that the organisation isn't just taking them to get money from us, but because they really want, need and appreciate the help they will get.
We want to create a feeling that when one volunteer leaves, we are still here and more of our friends will come later. We want the organisations to know us, trust us and like us. This will create a much better atmosphere for everyone included. We also think it's very important to help the organisations with fundraising that always struggle with funding to raise money and to create fun events for the children and people within the organisations.
Outline: Do you have any final things you'd like to say?
Tania: I really want to say that I truly believe in what we are doing and that I hope that more people can find us and come visit us. We want to grow, but slow, and the family feeling will always be around. The day we lose that feeling, we are not what we want to be anymore! So bigger but still small is my dream.
If volunteering or interning in Cape Town with African Sunrise sounds like something you'd like to be part of, contact the team today. And watch this space for more interviews and updates from the African Sunrise team.