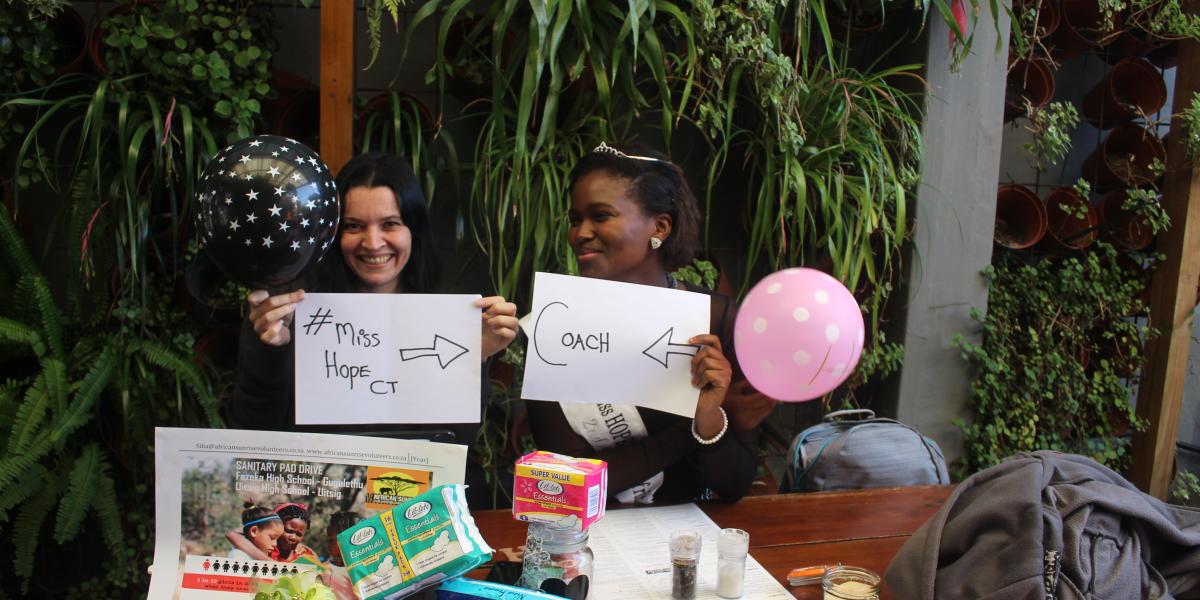 Free Sanitary Pads – Let's Keep the Conversation Going
When African Sunrise started in 2016, we didn't want to be like other volunteering and internships companies. Part of how our company's life began was because of experiences we shared that didn't sit right with us. As the phrase goes – be the change you want to see in the world. And with every new project we work with and each intern or volunteer we place with an organisation, we feel a genuine sense that we're moving in the right direction.
As Women's Month ends, the African Sunrise team continue to celebrate the positive and strong women we have in our lives. And we all have our own good and bad experiences with how society tries to box us into certain gender roles. There is one obstacle than tens of thousands of women of all ages face daily, and that's access to free sanitary products.
Sanitary Pads as a Human Right? – Our Blog Revisited –
Just over two years' ago we published an article called, 'Sanitary Pads – A Human Right?', which investigated the issue of the lack of access to sanitary pads and female hygiene products by thousands of young girls and women. At that time, we ran a donation drive for Fezeka High School in Gugulethu and Uitsig Highschool, Cape Town.
The process behind these donation drives brought home some issues that we found problematic. None more so than the general lack of awareness and reluctance of our community to engage with the subject. Since that time, we have continued to reiterate our stance that sanitary pads are a human right, in addition to further donation drives for local homeless women and learners in our community. You can see photos from our last Women's Day Event earlier in August where we handed our sanitary products here.
We aren't alone in our efforts and endeavours; there are hundreds of donations drives and fundraising campaigns happening throughout South Africa every month. All the same unifying goal of providing free sanitary products to women who don't have access to them. Yet, in the grand scheme of things – it feels like the conversation for this being fully funded and enacted has stalled or is in much the same place as we found ourselves two years ago.
So, the question is – where do we go from here?
Different Ways We Could Keep the Conversation Going –
Since the government first announced that free sanitary products would be made available for women and girls in more impoverished areas, nothing has come to fruition. That was 2011, and we're now seven years in the making with little to show at government and municipal level. However, there have been some success stories that can act as examples of where hard work and a collective voice can win.
In 2017, the KZN Education Department won favour from all over the country when they pledged to provide sanitary products for thousands of young women in indigent schools. The ANC Women's League have also raised their concerns that more needs to be done, suggesting that unemployed women should be given the means and training to produce reusable sanitary items and products, which they have mandated the government to fund and initiate.
It's clear that there is still a lot of work to be done by local and national government to make this a policy. Not just to have sanitary products protected from VAT increases, but to make them free to all schoolgirls and women who don't have the financial means to purchase them. With the positive initiative in KZN as an example, it is possible for a better future for our young woman to enjoy their education with confidence. And more importantly – on an equal footing.
The one thing that crops us repeatedly is a need for collective action, which requires a sustainable way of providing sanitary products to women. This is where products like the reusable sanitary products like Dignity Dreams pad and Subz Padz pad and panty could be a game-changer. We believe that there are enough positive examples of where things have worked. And with these types of products, there is a potential for sustainable assistance for all women.
Women and Men – In This Together –
A lot of the focus and emphasis of this article has been on women and how we can collect our voices and action to create lasting and effective change. But the reality is that we need as many voices in this conversation as possible: we want male voices in this conversation. There are some, but we can never have too many allies in this push for free and sustainable access to sanitary products.
There may have been a time where female sanitary and hygiene products were a taboo subject, but this is the twenty-first century, and this sort of mindset is a thing of the past. Women's health is not an embarrassing subject.
If there are any obstacles that deter men from being part of this conversation, then it's better to talk about them. Nothing ever improves when we don't discuss issues that keep us from making positive changes for the women in our lives. We need men to fight this fight with us.
As Siv Ngesi said in a recent post on his Facebook page: 'Should be free! #thatisall'
Siv has been in our corner for a while now – collecting over 150, 000 sanitary pads and taking part in a celebrity boxing match to raise funds for sanitary products.
It's fantastic that Siv dedicates so much of his time helping charitable and equality-based causes – he's not alone in this. There are thousands of men who actively campaign and collect donations of sanitary products. But it's not nearly enough. We need men to come to the table and stand up with us. We also need our male politicians at all levels to hear this conversation and come over to our team.
African Sunrise – How Do We Move Forward from Here to Make Positive Changes? –
The African Sunrise team are always thinking of new ways to improve the lives of the women we work with and for. As a company that works with NPOs and organisations that work with vulnerable women, we will do whatever we can to keep pushing this issue. It's now time to continue this conversation and see where action can be made. It is the right of all women to have access to sanitary products.
We are open to suggestions on how we can collectively carry this conversation forward. If you have any ideas or suggestions on how African Sunrise can rise to this challenge, please contact us.
Please share this blog, so we can make our collective voice as loud as possible. It's time for positive change for women in South Africa.
Please follow our future blogs here for more updates from the African Sunrise team.